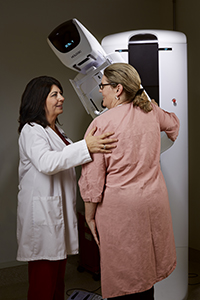 Stony Brook's Carol M. Baldwin Breast Care Center was the first in New York State to earn full accreditation by the National Accreditation Program for Breast Care Centers. Today, Stony Brook remains on the leading edge of breast care services, performing more than 20,000 breast screenings annually and pioneering new techniques and technology that keep women safe and healthy. Some of our innovations include:
Advanced Imaging for Dense Breasts. We were the first on Long Island to offer digital screening mammography and we continue to add technology that allows more accurate readings on women with dense breast tissue, including 3D tomosynthesis and automated whole breast ultrasound (ABVS).
Same Day Screening Results. Patients no longer have to wait days for mammography and breast screening results. At Stony Brook, a patient can come in for a mammogram, have it reviewed by a radiologist and on the same day be examined by a surgeon — often receiving the results of both before returning home.
State-of-the-Art Breast Reconstruction. We specialize in creating a reconstructed breast that closely resembles the look and feel of the patient's own breast. Some of the techniques we use include skin sparing mastectomy, total skin sparing mastectomy, and total skin sparing/nipple sparing mastectomy, all of which preserve as much of the patient's own breast as possible.
Learn more about the Carol M. Baldwin Breast Care Center and Stony Brook's comprehensive and innovative approach to breast health here.