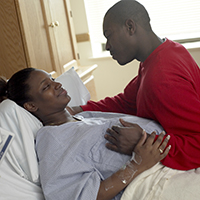 Your priority is a safe, healthy and happy birth for your baby. It's our priority, too. That's why we're innovators in promoting the best ideas in mother-baby care: from pioneering our skin to skin program for better family bonding, to training every nurse who works with new mothers in how to coach successful breastfeeding and infant care, to building the largest midwifery service in Suffolk County. In all we do, our goal is to give each baby the healthiest possible start in life, while ensuring that new parents receive the attention, education and support they need during this joyful life event.
For those who need a higher level of care – including mothers with complicated obstetrical conditions, those at risk of preterm delivery and babies with rare or complex conditions – we are ready. That's because the foundation of our program is medical excellence: advanced prenatal diagnostics, highly specialized physicians, state-of-the-art technology and 24/7 access to lifesaving interventions. In fact, we're what's known as a state-designated Regional Perinatal Center — Level 4, the highest there is — staffed and equipped to handle the complete range of mother and baby needs. Doctors from across Suffolk County refer their most challenging cases to us. They know their patients are in good hands.
This dual capability — supporting the comfort, needs and wishes of families while providing the highest possible level of medical care — makes Stony Brook unique in Suffolk. Our neonatal intensive care unit is a perfect example: it's New York's first all-private, single-bed NICU, which allows the neonatology team to deliver highly individualized, developmentally focused care in a controlled environment that's also comfortable for families.
Choosing where to have your baby is an important decision. In Suffolk County, it's a decision you can make with confidence. Stony Brook is the right place. And it has been for more than 100,000 mothers and babies since we opened our hospital — a milestone we celebrated in the summer of 2015.
Through the Enhanced Recovery After Surgery (ERAS) program, a multi-disciplinary team (including anesthesiologists, surgeons, nurse practitioners, physicians, assistants, nurses, pharmacists and social workers) will work with you to ensure that you are getting the best care, both before and after any surgical procedure. Our ultimate goal is to have you back to your normal lifestyle as quickly as possible.