Minimally Invasive OB/GYN Surgeries
For women who require a surgical procedure for a gynecological disorder or cancer, Stony Brook doctors continue to lead the way, bringing the latest advances in laparoscopic and robotic-assisted techniques to our patients.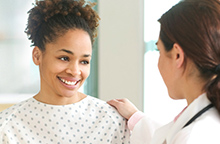 Our team of skilled and experienced surgeons has been specially trained to perform both routine and complex minimally invasive surgeries for both benign and cancerous gynecologic conditions. These highly trained doctors use laparoscopic procedures, robotic, vaginal or mini-laparotomy techniques – each of which involves small incisions, reduced blood loss, little scarring and a far faster recovery time. Frequently, patients can go home the same day of their surgery and often be back at work in less than two weeks.
Among the minimally invasive procedures performed by these Stony Brook specialists are surgical treatments for endometriosis, infertility, fibroid tumors, incontinence, cervical cancer, ovarian cancer and endometrial cancer. Biopsies to help identify cancer and determine the stage level can also be done with these techniques.
Three types of minimally invasive entryways are common in gynecological surgery. Depending on the type of procedure required, the physician may make the incisions just above the pubic hairline, in the abdomen and/or navel or through the vagina.
Laparoscopic versus robotic
While both laparoscopic and robotic equipment enable physicians to perform minimally invasive procedures, they each have their own unique capabilities. Laparoscopic tools are rigid, with cameras that provide two-dimensional views for the physicians. Laparoscopic procedures are generally used for more routine surgeries. Robotic-assisted surgical tools, on the other hand, offer more flexibility and a three-dimensional view, making them appropriate for more complex procedures.
---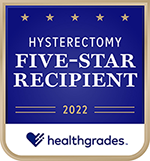 ---
Expertise and experience
What sets Stony Brook Medicine apart in this arena is the experience and training of its physicians. These specialized surgeons have completed additional formal training in minimally invasive and robotic-assisted surgery either through a fellowship in Gynecologic Oncology, which typically takes three to four years, or through a Minimally Invasive Gynecologic Surgery Fellowship that generally takes two to three years. Stony Brook doctors also train other surgeons on both a national and international basis. And while the average OB/GYN in New York State performs five to six hysterectomies annually, the physicians in the Minimally Invasive Gynecologic Surgery Department at Stony Brook perform more than 100 each year.
Even though minimally invasive surgeries are more commonplace now, there are still situations and conditions that may require traditional open surgery. An example would be when a tumor has grown too large to be removed by minimally invasive methods. However, more and more frequently, open invasive surgeries in this field are becoming a thing of the past.
Through the Enhanced Recovery After Surgery (ERAS) program, a multi-disciplinary team (including anesthesiologists, surgeons, nurse practitioners, physicians, assistants, nurses, pharmacists and social workers) will work with you to ensure that you are getting the best care, both before and after any surgical procedure. Our ultimate goal is to have you back to your normal lifestyle as quickly as possible.
For more information about general OB/GYN surgery, call (631) 444-4686, or for information about gynecologic oncology surgery, call (631) 444-2989. 
Learn more about our gynecologic specialties.