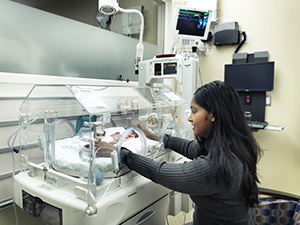 The Neonatal Intensive Care Unit (NICU)
Annually at Stony Brook Medicine, there are approximately 1,000 admissions to the Neonatal Intensive Care Unit (NICU), 100 neonatal transports, 200 maternal transports, 90 newborns weighing less than 1,500 grams (3.3 lbs.) and 4,000 in-hospital deliveries.
What these numbers mean to you is that Stony Brook is the right place for the right care, not only for healthy, low-risk births, but also for mothers and babies at risk of complications or anomalies. Learn more about our NICU.
Specialty Newborn Programs
Breastfeeding
Stony Brook is the only New York State hospital and among two hospitals in the Northeast selected to participate in the breastfeeding education project "Best Fed Beginnings." Part of a national effort to significantly improve breastfeeding rates and help mothers give their babies a healthy start in life, this group is open to all women who have given birth at Stony Brook.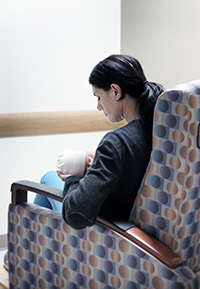 What does it mean for you? It means that while you are in the hospital, trained experts and lactation consultants on staff can help you start breastfeeding if you choose to do so. After you go home, you are invited to receive additional support through our weekly support group. There you can consult our experts, get your questions answered and bond with other mothers.
Unsure about breastfeeding? Some facts to consider: Breastfeeding has multiple health benefits for both infants and mothers. For infants, it decreases the incidence and severity of many infectious diseases – including respiratory tract infections, ear infections and bacterial infections -- reduces infant mortality, protects against diabetes and cancers such as leukemia, and optimally supports neurodevelopment. It also decreases infants' risk of becoming obese later in childhood. For mothers, breastfeeding decreases the risks of breast and ovarian cancers, diabetes, rheumatoid arthritis and cardiovascular disease. In addition, women who breastfeed have less postpartum bleeding.
We've compiled links to breastfeeding websites that many women have found to be very helpful.
The Opt-to-Quit Quitline, for Mothers Who Smoke
Another option that Stony Brook offers is a partnership with the New York State Smoker's Quitline (NYSSQL) to help parents who smoke quit, thus limiting harmful exposure to second-hand and third-hand smoke — both of which have been known to cause asthma attacks, pneumonia, bronchitis, inner ear infections and even Sudden Infant Death Syndrome in children. Quitting smoking can also help with breastfeeding, so the baby can derive all the benefits of breastfeeding without the dangers of secondhand smoke. If you are a smoker who would like to quit in order to breastfeed your baby, visit the New York State Smoker's Quitline at http://www.nysmokefree.com/ or call 866 NY QUITS.
Our Providers
womenshealth.stonybrookmedicine.edu/patientcare/ourproviders
Baby Safety Tips
As part of Long Island's premier academic medical center, our care extends beyond our walls into our communities. We are dedicated to helping to prevent illness and injury. To support parents and caregivers, we've compiled information and important tips on baby safety, including Safe Sleep, Car Seat Safety, Soothing Your Baby and Feeding Your Baby. To read and print out these tips, click here.