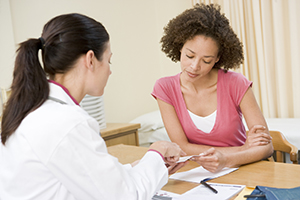 At Stony Brook Medicine, we understand that when it comes to health, you want it all: advanced medicine plus compassionate delivery of care. High-tech equipment with low-tech TLC. A team of highly trained specialists at the ready alongside private rooms that encourage family bonding. You also want brilliant doctors who are effective communicators. Smart, efficient nurses who will hold your hand. And safe, state-of-the-art facilities that are both comfortable and soothing.
And this is exactly how Stony Brook Medicine delivers its health services to you, at every age and every stage of your life.
Much of Stony Brook's expertise revolves around childbirth and the issues of the reproductive years, where you need ongoing, expert healthcare close to home. However, we also provide highly specialized expertise in all the other areas of women's health, too. This includes innovative breast cancer care, individualized treatment plans for gynecological cancers, minimally invasive surgery options and comprehensive wellness initiatives for women from adolescence through the senior years.
Interwoven into every area of specialty is the hands-on approach known as patient and family-centered care. With a foundation in respect for the individual and clear communication, this approach deeply involves you and your family in your care decisions. It also involves one-to-one teaching, individualized plans of care, and an atmosphere that encourages questions and promotes empowerment. At Stony Brook, you are more than a patient. You are an equal partner dedicated to a common goal: creating and supporting life-long good health.