Stony Brook is committed to the health of women and babies in our community. Our efforts include initiatives to prevent premature births, promote breastfeeding, make the birth experience safer, improve prenatal care and give babies a healthier start in life.
We offer lectures, classes, one-to-one counseling and other education initiatives. Below is a list of our ongoing programs.
Childbirth Preparation Classes
Session A: Wednesday classes are held on the 1st, 2nd and 3rd Wednesday of each month, from 7 to 9 pm.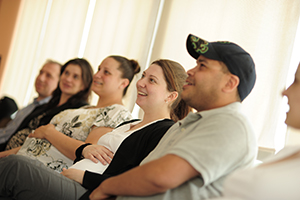 Topics include:
Breastfeeding Basics
Navigating Your Labor and Delivery Experience
Newborn and Postpartum Care
Session B: Saturday classes are held on the 4th Saturday of the each month from 9 am to 1 pm.
Topics include:
Labor and Delivery
Newborn
Postpartum
To register for a childbirth preparation class, call (631) 444-4000.

Breastfeeding Support Group
Stony Brook is the only New York State hospital and among two hospitals in the Northeast selected to participate in the breastfeeding education project "Best Fed Beginnings." Part of a national effort to significantly improve breastfeeding rates and help mothers give their babies a healthy start in life, this group is open to all women who have given birth at Stony Brook.
What does it mean for you? It means that while you are in the hospital, trained experts and lactation consultants on staff can help you start breastfeeding if you choose to do so. After you go home, you are invited to receive additional support through our weekly support group. There you can consult our experts, get your questions answered and bond with other mothers.
Unsure about breastfeeding? Some facts to consider: Breastfeeding has multiple health benefits for both infants and mothers. For infants, it decreases the incidence and severity of many infectious diseases, reduces infant mortality and optimally supports neurodevelopment. It also decreases infants' risk of becoming obese later in childhood. For mothers, breastfeeding decreases the risks of breast and ovarian cancers, diabetes, rheumatoid arthritis and cardiovascular disease.
Breastfeeding Support Group Details
Classes are held on Mondays from 6:30 to 8 pm at 6 Technology Drive in East Setauket.
For more information or to sign up, call Maureen Rogers at (631) 444-7650.